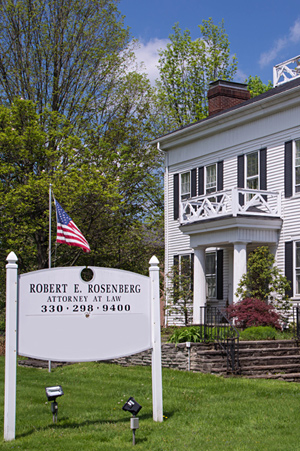 When you hire a law firm in Trumbull County, it is important that you have an experienced legal team working for you that is skilled and committed to protecting your interests to help you reach a favorable outcome. The attorneys of Robert E. Rosenberg and Associates have represented clients throughout Trumbull County for more than 20 years. We have chosen to limit our practice to specific areas of law to better serve our clients' needs.
Personal Injury – Insurance companies have a team of professionals protecting the company by seeking to pay as little as possible on each claim. Our team of experienced personal injury attorneys protects your interests by holding the person responsible for your injury accountable and securing the compensation that you deserve.
Probate – Losing a loved one is an emotional experience that is often made worse by dealing with the legalities of finalizing his or her estate. Our attorneys understand that this is a stressful time and seek to help relieve the stress by assuming the burden of handling the paperwork necessary to administer the probate estate. We also offer our clients comprehensive estate planning services including the preparation of wills, trusts, powers of attorney and other estate planning documents.
Family Law – The four main categories of Family Law are divorce, dissolution, custody and post-decree matters. Our attorneys use their knowledge and experience of domestic law to achieve the best possible results for our clients. We understand the importance of families and work diligently to meet the needs of our clients.
Criminal Defense – If you have been charged with a crime, your freedom, finances and job are at risk. You need an aggressive criminal defense attorney who will fight to protect your rights. Do not compromise your case by hiring an inexperienced lawyer. Our attorneys have the experience necessary to ensure that your rights are protected within the justice system.
Civil Litigation – It is unfortunate, but there may be a time when you are required to be involved in a lawsuit as either the plaintiff or the defendant. Our debt defense and civil litigation team has the experience required to ensure that you are treated fairly in either situation. If you need assistance with debt resolution or you have a contract dispute, we will work diligently to ensure that your interests are protected.
Contact Our Office for a Free Consultation
Contact our office to schedule a free consultation with one of our experienced attorneys. Rosenberg and Associates is a well-established law firm that is dedicated to helping individuals who have been hurt or injured due to the fault of another.
We provide services to clients throughout Trumbull County including those located in:
Bolindale
Brookfield
Brookfield Center
Champion
Churchill
Cortland
Girard
Hilltop
Howland Center
Hubbard
Leavittsburg
Lordstown
Maplewood Park
Masury

McDonald
McKinley Heights
Mineral Ridge
Morgandale
Newton Falls
Niles
Orangeville
South Canal
Vienna
Warren
West Farmington
West Hill
Yankee Lake