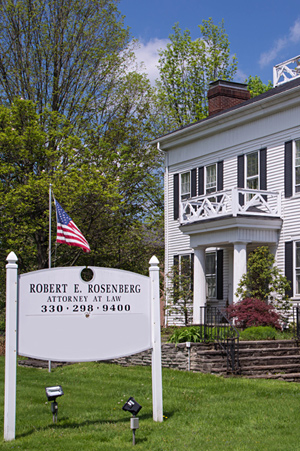 The attorneys of Robert E. Rosenberg and Associates have more than two decades of combined legal experience representing clients in several areas of law including Personal Injury, Probate, Criminal Defense, Family Law and Civil Litigation. Mr. Rosenberg and his staff have dedicated their practice to providing compassionate and experienced legal representation for the residents of Summit County. The desire to provide experienced legal services to individuals who are hurting or in need of legal advice is the guiding principal of the attorneys and staff of Robert E. Rosenberg and Associates.
We are dedicated to seeing that justice is served for each of our clients. Our focus is to help people by standing up for their rights and protecting their interests inside and outside of the courtroom. Whether you have been injured in an accident due to the negligence of another person or you have lost a loved one and need help with probating his or her estate, our attorneys will provide you with experienced legal representation.
Aggressive Trial Lawyers and Experienced Negotiators
Whenever possible, we will attempt to resolve legal disputes through effective forms of settlement such as mediation, negotiation and arbitration to save our clients time, money and stress. We are not "trial hungry attorneys" who litigate every case to increase our attorney's fees. However, we are experienced trial attorneys who are ready to take your case to court if the other party refuses to negotiate a fair settlement.
Attempting to represent yourself can be very costly and result in your claim being denied. The average person does not have a working knowledge of the law or a sufficient understanding of the details of our legal system to adequately represent himself or herself. Because we have experience dealing with complex legal issues, we are in a better position to ensure that your case is handled properly and you receive the outcome that you desire. It is our job to handle the legal side of your issue so that you can recover and move on with your life.
Contact Our Office for a Free Consultation
Contact our office to schedule a free consultation with one of our experienced attorneys. Rosenberg and Associates is a well-established law firm that is dedicated to helping individuals who have been hurt or injured due to the fault of another.
We provide services to clients throughout Summit County including those located in:
Akron
Barberton
Boston Heights
Brittain
Broadview
Clinton
Cuyahoga Falls
Darrowville
East Akron
Ellet
Fairlawn
Firestone Park
Forest Hill
Ghent
Goodyear Heights
Green
Hametown
Hudson
Johnsons Corners
Kenmore
Lakemore
Little York
Macedonia
Maple Valley

Mogadore
Montrose
Munroe Falls
New Franklin
North Akron
Northfield
Norton
Peninsula
Pigeon Creek
Portage Lakes
Reminderville
Richfield
Richfield Heights
Sawyerwood
Silver Lakeli>
South Akron
Stow
Tallmadge
Thomastown
Twinsburg
Twinsburg Heights
Warwick
West Akron
West Richfield