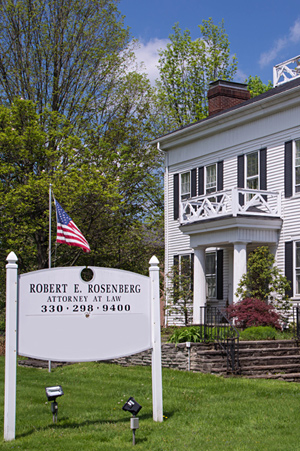 When you hire Robert E. Rosenberg and Associates, you receive strong representation from attorneys with over two decades of combined legal experience. We also have a dedicated staff of professionals that are efficient, friendly and caring. We are always available to answer your questions and we are proud to provide personalized, compassionate service to each client. Many of our new clients come to us as referrals from our former clients. There is no greater compliment than when a former client puts their faith and trust in our abilities to refer a family member or friend to our law firm.
The attorneys of Robert E. Rosenberg and Associates desire to help individuals resolve their legal issues in the most efficient and effective means possible. Therefore, we use all resources and tools available to us including mediation and arbitration to negotiate favorable outcomes for our clients. However, if negotiations fail, our experienced trial attorneys are tough litigators who are prepared to take your case to court to seek the justice you deserve.
Focused and Experienced Stark County Attorneys
In order to provide our clients with the best representation possible, we limit our practice to certain areas. We focus all of our efforts on becoming the most qualified and experienced attorneys in these specific areas listed below.
Family Law – We help clients work through family law matters such as divorce and sensitive custody issues. We understand that this is an emotional area of law and we are committed to making this process as stress-free as possible for our clients.
Probate – Our comprehensive estate planning services help clients protect their assets and make arrangements to provide for their families in the event of their death. We also assist clients with the probate process once a loved one has passed to relieve the burden of dealing with the legalities of finalizing your loved one's affairs.
Personal Injury – When you are injured due to an accident or through the negligent acts of another, you want an experienced personal injury attorney who understands how to deal with insurance companies to ensure that you receive a fair and just settlement for your damages. Our attorneys have successfully represented many personal injury clients to help them recover compensation for their injuries.
Criminal Defense – We diligently defend our clients to ensure that their rights are protected within the justice system. Our attorneys are skilled litigators who understand the criminal justice system and can easily navigate through the strategies and obstacles you may face during a criminal case.
Debt and Civil Litigation – If you are being harassed by debt collectors, our civil litigation team can help you resolve your debt problems so that you can recover from a financial crisis. We also assist clients who are dealing with breach of contract issues.
Contact Our Office for a Free Consultation
Contact our office to schedule a free consultation with one of our experienced attorneys. Rosenberg and Associates is a well-established law firm that is dedicated to helping individuals who have been hurt or injured due to the fault of another.
We provide services to clients throughout Stark County including those located in:
Alliance
Beach City
Brewster
Canal Fulton
Canton
Charity Rotch
Clearview
Columbia
East Canton
East Sparta
Edgefield
Greentown
Hartville
Hills and Dales
Lawndale
Limaville
Louisville
Magnolia

Massillon
Mayflower Village
Meyers Lake
Minerva
Mount Union
Navarre
North Brewster
North Canton
North Lawrence
Perry Heights
Richville
Robertsville
Uniontown
Walnut Hills
Waynesburg
West Brookfield
West Park
Wilmot