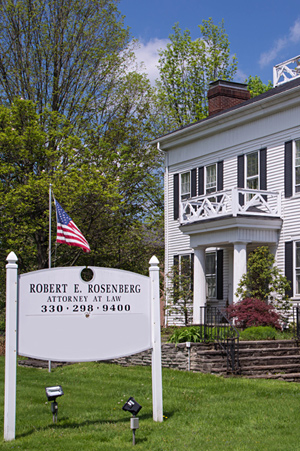 Whether you are facing criminal charges or you have a personal injury claim, you need strong and reliable legal representation. You need an attorney who understands the legal issues, applicable laws and recent court decisions. You want an attorney who will protect your personal interests and will fight for your rights within the judicial system. The attorneys of Robert E. Rosenberg and Associates have the experience and legal knowledge that you need on your side.
In order to provide the best legal counsel for our clients, we limit our practice to a select few areas of the law. This enables us to focus our concentration on certain issues to provide experienced legal representation to our clients. Our attorneys focus on legal issues related to:
Personal Injury
Probate and Estate Planning
Family Law
Criminal Defense
Civil Litigation
Confident, Reliable and Experienced Portage County Attorneys
When you retain the firm of Robert E. Rosenberg and Associates, you will find that you are receiving the benefits of both a large and a small law firm. Our attorneys possess a high level of authoritative legal knowledge combined with more than two decades of experience. They are accomplished negotiators as well as seasoned trial attorneys. Through years of experience, we have built a vast network and a variety of resources that enable us to provide our clients with a higher level of service compared to other law firms.
Our law firm additionally has a high level of personal attention found in small law firms. Each client is treated as an individual rather than a case file. When you contact our office, we will take the time to answer each of your questions so that you are confident your case is receiving the attention that it deserves. Our clients receive regular updates regarding the process of their case.
For most people, facing a legal battle is a stressful and emotional time. They worry about how they will resolve the legal conflict and how it will affect their life and the lives of their family members. If you find yourself in this position, you can trust the experienced attorneys of Robert E. Rosenberg and Associates to work diligently to fight for your rights and to help you find a resolution that is in your best interests.
Contact Our Office for a Free Consultation
Contact our office to schedule a free consultation with one of our experienced Portage County attorneys. Rosenberg and Associates is an experienced law firm that is dedicated to helping individuals who have been hurt or injured due to the fault of another.
We provide services to clients throughout Portage County.