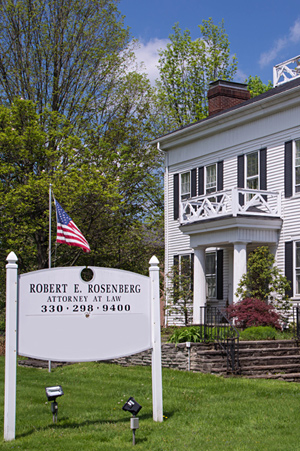 The experienced attorneys at Robert E. Rosenberg and Associates provide legal solutions for clients throughout Medina County. From Family Law and Probate Law to Criminal Defense, Civil Litigation and Personal Injury, our attorneys possess the skills and knowledge to help you with whatever legal matter you may encounter. Trust your case to lawyers who are dedicated to achieving the best result possible for their clients.
Finding yourself in a situation that requires the services of an attorney can be emotional and stressful. Whether you are seeking a divorce or you have been injured due to the careless acts of another person, you need an attorney who will guide you through the process and protect your interests. Robert E. Rosenberg and Associates has the skills and experience you need, regardless of your situation. We are dedicated to easing your worries while helping guide you through the legal process as we fight to see that you receive the justice that you deserve.
Caring and Compassionate Attorneys
The attorneys of Robert E. Rosenberg and Associates understand that this is an emotional and stressful time for you and for your family. Our law firm focuses on areas of law that often deal with sensitive subjects that involve many emotions for all parties. Our attorneys diligently represent each client while maintaining a level of compassion that you do not see in most law firms. With more than two decades of experience in the legal field, Robert E. Rosenberg and Associates provides diligent and experienced representation for each individual client.
We understand that your case is unique and you deserve personalized representation. Our attorneys approach each case as a unique situation rather than viewing cases as a "one size fits all" scenario. Our attorneys and staff know that being involved in any legal dispute can cause feelings of worry and anxiety for the client. It is our goal to ease this burden by providing experienced legal services in a caring and compassionate manner. We are strong advocates and skillful litigators but we are also caring individuals who put the needs of our clients, both legally and personally, at the forefront of our practice.
Contact One of Our Offices for a Free Consultation
Contact our office to schedule a free consultation with one of our experienced Medina County attorneys. Robert E. Rosenberg and Associates, is a well-established law firm with offices conveniently located in Aurora and Ravenna, Ohio that are dedicated to helping individuals who have been hurt or injured due to the fault of another.
We provide services to clients throughout Medina County including those located in:
Briarwood Beach
Brunswick
Chippewa Lake
Chippewa-on-the-Lake*
Gloria Glens Park
Lodi
Medina
Seville
Spencer
Wadsworth
Westfield Center