Motorcycle Accident Attorneys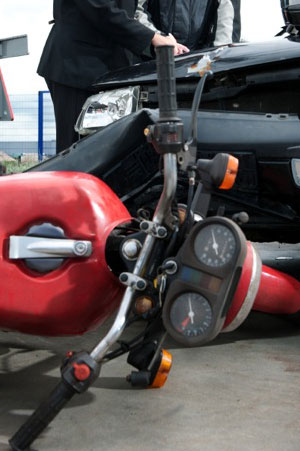 As the number of motorcyclists on our roads increases, we see an increase in personal injury cases involving motorcycles. The number of drivers on our roads who are driving while distracted (i.e. texting, talking on the telephone and using other electronic devices) is increasing every day. When combined with the lack of attention paid by motorists to motorcycles, you have the perfect conditions for a motorcycle accident to occur.
The attorneys of Robert E. Rosenberg & Associates understand how devastating a motorcycle accident can be to the rider and his or her family. You deserve compensation for your medical bills, lost wages and the pain you have suffered due to the negligent or careless acts of another driver.
Protecting Your Right to Fair Compensation
 It is very important that you contact an experienced motorcycle accident attorney quickly when you are involved in a motorcycle accident in Northeast Ohio. You need someone on your side that will fight for your rights and protect your interests. The insurance company for the other driver has a team of professionals ready to argue that the accident was your fault or that you could have avoided the accident and reduced your injuries if you had taken evasive action.
You need attorneys who are experienced in preserving evidence and investigating motorcycle accident cases to build a strong personal injury claim. Our law firm has built a network of experts who understand the complexities involved in motorcycle accident cases. With information and evidence provided by medical experts, investigators and accident reconstructionists, we will be able to establish the true value of your personal injury claim so that we can get you the compensation you deserve.
The attorneys of Rosenberg & Associates have the knowledge and experience you need to ensure that you receive full and fair compensation for your injuries.
Contact Our Office for a Free Consultation
 Our first priority is to ensure that you receive the medical attention that you need in order to recover from your accident. Motorcycle accidents often result in devastating injuries that require long-term medical care. We want you to concentrate on your recovery while we concentrate our full efforts on holding the person responsible for your injuries accountable. We are fully prepared to litigate your claim to ensure that justice is served and you are compensated for your injuries.
If you have been injured in a motorcycle accident, contact our office to schedule a free consultation with one of our motorcycle accident attorneys. Rosenberg and Associates is a well-established law firm that is dedicated to helping individuals who have been hurt or injured due to the fault of another.